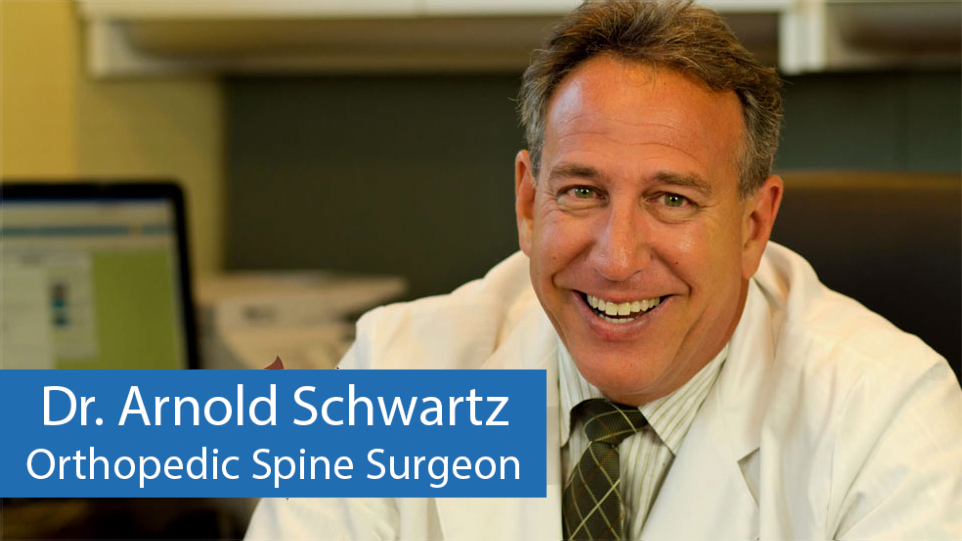 Arnold M. Schwartz, MD
Board Certified Orthopedic Surgeon
Specializing in Scoliosis & Spine Surgery
Dr. Schwartz, a board-certified orthopedic surgeon, has specialized in spinal surgery since 1986 when he completed a fellowship in spinal disorders at the St. Luke's Hospital Spine Center in Cleveland, Ohio. He received additional training in Europe and Israel with some of the world's leading experts and innovators in spine surgery. He completed his undergraduate work in Bio-Medical Engineering at Northwestern University in Evanston, Illinois and received his medical degree from the State University at Stony Brook.
Dr Schwartz Orthopedic
Dr. Schwartz completed a general surgery internship at Mt. Sinai Hospital in New York City and his orthopedic surgery residency at Boston University. Since completion of his training, he has concentrated his practice to the care of patients with spine disorders. He has been an investigator for two clinical studies involving FDA approval of a spinal device used in spinal fusion procedures. Dr Schwartz is a member of the Medical Board, Credentials Committee and Quality Assurance Committee at Huntington Hospital.
Dr. Schwartz is a Fellow of the American Academy of Orthopedic Surgeons and the American College of Surgeons as well as an active member of the North American Spine Society, New York State Orthopedic Society, American Medical Association, Medical Society of the State of New York, and the Suffolk County Medical Society.
Education
Undergraduate Degree
BS, Bio-Medical Engineering
Technological Institute Northwestern University
Evanston, Illinois
Medical Degree
State University of New York at Stony Brook
Stony Brook, New York
General Surgery Internship
Mount Sinai Hospital
New York, New York
Residency
Orthopaedic Residency
Boston University Dept. of Orthopaedics
Boston, Massachusetts
Fellowship
Traveling Fellowship
European Spine Centers, Israel, Switzerland, Germany, France
Spine Surgery Fellowship
Saint Lukes Hospital Spine Center, Cleveland, Ohio
Certification
Diplomate, National Board of Medical Examiners
Board Certified, American Board of Orthopaedic Surgery
Fellow, American Academy of Orthopaedic Surgery
Fellow, American College of Surgeons
Societies & Associations
Professional Societies
North American Spine Society
Eastern Orthopaedic Association
Professional Associations
New York Spine Club
Suffolk County Orthopaedic Society
Long Island Orthopaedic Surgeons
Scoliosis Association
American Medical Association
Medical Society of the State of New York
Suffolk County Medical Society